CBSE Class 12 Business Studies Project 2021: Guidance by CBSE
As there is no proper guidance available on the internet on the business project class 12, many teachers and students are still confused about the 2021 project work, project idea, topics, how to make a project report file, syllabus of the practical viva, and many more. There has been a continuous demand from VidyaSetu 12th Commerce Students for the proper details on CBSE Class 12 Business Studies Project Topics 2020-21. bst project file class 12 is for 20 marks which will directly add in the board results and can cause increase or decrease in overall marks.
Latest Update Regarding class 12 Business studies project work
According to CBSE's new BST Project Class 12 Guidelines, students who earlier had to go to their respective schools for project submissions can now directly submit to the CBSE's official website. Due to increasing Covid cases, CBSE is taking every possible action in view to keep the students and teachers safe. You can visit the link below to submit your class 12 projects.
Visit Link- Submission for Cbse class 12 Business Studies Project 
This article is curated to provide complete information on the Class 12 Business Studies Project 2021 given by the CBSE Board. CBSE Guidelines for BST Project says, only one specific Report File is needed to be submitted during the practicals. The Business studies practicals will hold in the month of March 2021. Students are supposed to submit the physical Report File in the practicals because there's still no provision of uploading a comprehensive online project file in PDF Format to the teachers. Business Studies Project of Class 12 helps students to get the practical knowledge of what the students have studied in the class theoritically.
VidyaSetu Learnings is the top online education portal for class 10th, 11th, and 12th students. The best online classes for class 12th provide all the required details on every subject including arts, commerce, and arts. Students can also download CBSE Class 12 Commerce Syllabus 2021 and CBSE Class 12 Commerce Sample Papers 2021 for practice every day for better scores.
The CBSE Class 12 Commerce Date Sheet 2021 is still not announced by the CBSE Board, but practicals are expected to be held in the month of March. So, all the class 12 students are supposed to prepare their Business Studies Project Of Class 12 for the academic session 2020-21 in the month of February to avoid any last-minute hassle. Students can also go through the Previous year question paper for BST class 12 .
Students who are still confused about which books I should read to complete the Business Studies Class 12 Syllabus, and download CBSE Class 12 Business Studies Books NCERT 2021 PDF.
In this proper Class 12th Business Studies Project Guide 2021, students will find all the necessary details about the project file, along with the proper guidelines of the CBSE Board syncing with the new and reduced syllabus of class 12 Business Studies. CBSE Business Studies Project for Class 12 topics are provided below for reference.
Download CBSE Class 12 Business Studies Project Guideline PDF 
Let's get started with the weightage of the 12th Class Business Studies Project 2021. Read more to get more details. 
SiteMap of the CBSE Class 12 Business Studies Project
Specifications of Project
Weightage in Marks
Total Weightage
20
Total Project
1 File
Chapters (Topic)
1 Out Of 4
Marks Distribution on the basis of Assessment
1.Initiative, Cooperativeness, and Participation
2
2.Creativity and Preparations
2
3.Content, Observation, and Research Work
4
4.Analysis of Situation
4
5.Viva
8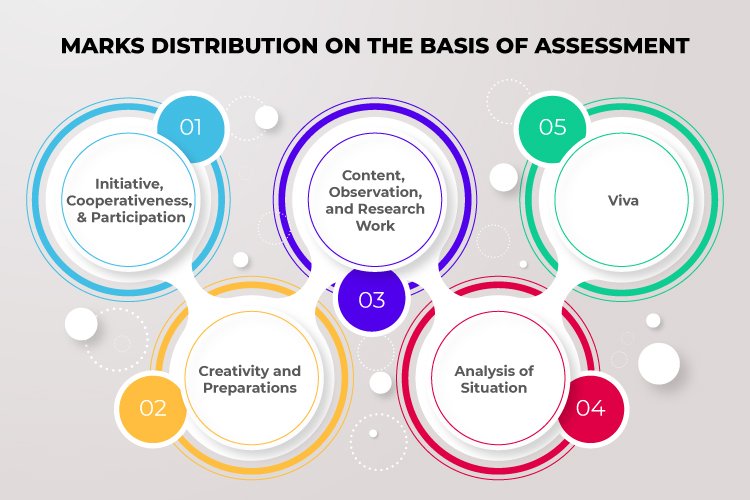 Students can check out the above table showing the sitemap of the complete CBSE Class 12 Bst Project 2021. The whole project is 20 marks, where the project includes 1 Report File. CBSE Board has given important points to be covered in the project work. On these specifications of the assessments, teachers will allot marks to the students. If students have covered all the 4 points in their project work and performed well in the viva, then scoring full marks would be not so far.
Project VIVA (oral test) would be based on the project work, each student has prepared. Questions would be asked related to their chosen topics for the CBSE Class 12th Business Studies Project 2021. Students need to study thoroughly and have very good research while preparing for the complete project. Viva consists of the Highest weightage, so students need to be prepared nicely for the oral questionnaire. CBSE Class 12 Business Studies Project Guidelines 2020-21 is provided below for students to go through the original guidelines and does not end up losing marks due to lack of information.

What are the CBSE Class 12 Business Studies Project Topics 2020-21?
CBSE Board has assigned the 4 important Business Studies Class 12 Project Topics to the class 12th Commerce Students. Students need to choose any 1 out of 4 Topics. The topics are given below:
Elements of Business Environment  (Book-I)
Principles of Management (Book-I)
Stock Exchange (Book-II)
Marketing Management (Book-II)
These are the 4 important chapters of topics for the CBSE Class 12 Business Studies Project 2021. Students need to pick any topic and start preparing a very detailed project and gain as much information as they can. The VIVA test would be taken on the chosen topics, so it is advisable for the students to learn while preparing the project file.
Class 12 Business Studies Project On Elements of Business Environment
Students can take the help of their respective subject teachers while choosing any one of the following elements prescribed by the CBSE.
Changes witnessed over the last few years on mode of packaging and its economic impact.
The reasons behind changes in the following:
Coca – Cola, and Fanta in the seventies to Thumbs up and Campa Cola in the eighties to  Pepsi and Coke in the nineties.
Changing role of women in the past 25 years relating to joint families, nuclear families, women as bread earners of the family, changes in the requirement trend of mixers, washing machines, microwave and standard of living.
The changes in the pattern of import and export of different Products.
The trend in the changing interest rates and their effect on savings.
A study on child labor laws, their implementation, and consequences.
The laws of mining /setting up of industries, rules, and regulations, licenses required for running that business.
Social factors affecting acceptance and rejection of an identified product. (Dishwasher, Atta maker, etc)
What has the effect of change in the environment on the types of goods and services?  The students can take examples like:

Washing machines, microwaves, mixers, and grinders.
Need for crèche, daycare center for young and old.
Ready to eat food, eating food outside, and tiffin centers.

Change in the man-machine ratio with technological advances resulting in a change of cost structure.
Effect of changes in the technological environment on the behavior of employees
 Principles Of Management Project for Class 12
For taking this topic, the students are required to visit any one of the following:
A departmental store.
An Industrial unit.
A fast-food outlet.
Any other organization approved by the teacher.
After visiting any one of the venues, students need to observe the application of the general principles of management advocated by Fayol.
What are Fayol's principles?  
Division of work.
Unity of command.
Unity of direction.
Scalar chain
Espirit de corps
Fair remuneration to all.
Order.
Equity.
Discipline
Subordination of individual interest to the general interest.
Initiative.
Centralization and decentralization.
Stability of tenure.
OR
Students of class 12 Commerce may enquire into the application of scientific management techniques advocated by F.W.  Taylor in the unit visited.
Functional foremanship.
Standardization and simplification of work.
Method study.
Motion Study.
Time Study.
Fatigue Study
Differential piece-rate plan.
Stock Exchange Project for Class 12
The aim and provision of the Class 12 Business Studies Project On Stock Exchange are to teach commerce students the proper way of investing and analyzing the stock market which is the major factor responsible for the country's economy. This project also focuses on important lessons about the economy, financial responsibility, and mathematical calculations based on research.
This BST project 2021 enables commerce students to know about the stock market while investing some fake money (practically) in certain stocks. Students, thus research and buy and sell according to the market and self-need.
This project topic will also provide some knowledge to the students about how the stock market is being monitored by the brokers and will teach students to calculate profit and loss in the stocks.
The Class 12 BST stock exchange project work will enable the students to:
understand the topics like sources of business finance and capital market
understand the concepts used in a stock exchange
inculcate the habit of watching business channels, reading business journals/newspapers, and seeking information from their elders.
Marketing Management Project of Class 12
Students can pick any product in the marketing management project of class 12. The only thing to remember while preparing the class 12th business studies project on marketing management is that the identified product should not be anything whose use or consumption is discouraged by the society or government such as pan masala, alcohol, tobacco, etc. marketing project topics for class 12 are given below so that students can pick one without being worried about the topics.
Identify or pick one product/service from the below list which you may like to manufacture/provide [pre-assumption].
Adhesives
Air conditioners
Baby diapers
Bathing Soap
Bathroom cleaner
Bike
Blanket
Body Spray
Bread
Breakfast cereal
Butter
Camera
Car
Cheese spreads
Chocolate
Coffee
Cosmetology product
Crayons
rockery
Cutlery
Cycle
DTH
Eraser
Fe-wash
Fairness cream
Fans
Fruit candy
Furniture
Hair Dye
Hair Oil
Infant dress
Inverter
Jams
Jeans
Jewelry
Kurti
Ladies bag
Ladies footwear
Learning Toys  40. Lipstick
Microwave oven
Mixers
Mobile
Moisturizer
Music player
Nail polish
Newspaper
Noodles
Pen
Pen drive
Pencil
Pickles
Students can take any product/service they want, discussing with the teacher would help to make the appropriate Class 12 Business Studies Project on Marketing Management. 
Marketing Management Project Must Include
On the basis of the work done by the students the Class 12 Business Studies Project Marketing Management should include the  following:
Type of product /service identified and the (consumer/industries) process involved therein.
Brand name and the product.
Range of the product.
Identification mark or logo.
Tagline.
Labeling and packaging.
Price of the product and basis of price fixation.
Selected channels of distribution and reasons thereof.
Decisions related to transportation and warehousing. State reasons.
Promotional techniques used and starting reasons for deciding the particular technique.
Grading and standardization.
For more details, students can study related solutions:
Presentation of Class 12 Business Studies Project
Project Must Have 25-30 Pages
CBSE Board says each class 12 project should at least have 25-30 pages. It is up to students to increase the number of pages to make it a detailed project. These pages include all the necessary formalities needed to be done at the starting and end of the project like the Student's complete details, Acknowledgements, and preface, Introduction, Conclusion, Bibliography, etc.
The project should be Handwritten
CBSE accepts only handwritten projects on the boards. So, students prepare their report files with attractive handwriting. As presentation plays a very important role in scoring marks. If your hand-writing is good and the project file looks neat and clean, then even if you have some analytical mistake or less research, you would get the full marks.
Presented in Folder
Students should submit their project files in a neat folder. This is the proper way of submitting your board class 12 business studies project 2020-21. Teachers get more attracted by a neat and clean project which is presented nicely by students. If your cover is very sober yet classy, you can easily score the full marks.
Project Sheets Must be in Specified Sequence
The project report file of business studies should be drafted in the following sequence by covering every detail-
The cover page should include the title of the Project, student information, school, and year.
List of contents.
Acknowledgments and preface (acknowledging the institution, the places visited, and the persons who have helped).
Introduction.
Topic with a suitable heading.
Planning and activities are done during the project if any.
Observations and findings of the visit.
Conclusions (summarized suggestions or findings, the future scope of the study).   Photographs (if any).
Appendix, bibliography for bst project is also very necessary for teachers to know where have they taken the data from.
Teacher's observation.
Signatures of the teachers.
CBSE Guidelines for Business Studies Class 12 Project 2021
Students of class 12 Commerce Stream are supposed to pick one topic out of four and are required to prepare only ONE project report file from the selected topic. (Consist of one project file of 20 marks)
Students can pick any ONE Unit out of the four with the help of teachers.
The BST Project topic will be assigned to every student after the discussion with the respective subject faculty and later are supposed to be discussed at every stage of the submission.
While preparing a CBSE Class 12 Business Studies Project 2021, teachers play the role of a facilitator who is there to supervise every student for completing the project report.
Students can ask their teachers to provide relevant study materials or suggest websites, or even obtain permits for visiting certain restricted places.
Do not fall prey to the readymade project reports, if caught by the teachers, they will be discarded at once.
Students need to have complete research on the project topic and prepare it wisely. This will help in answering questions in the VIVA Exam.
Students must take initiative to present their projects before the class.
Students can make their teachers proud by showing their hard work and self-esteemed creativeness on the Business Studies Project File.
TakeAway
Class 12 Commerce Students can acknowledge this research-based CBSE Class 12 Business Studies Project 2021. In this project guide, students will find all the necessary details to be included in the project, CBSE prescribed topics, guidelines, submission date with other necessary details. Students can also refer to CBSE Class 12 Business Studies Guide 2021 for more information on Business Studies and get answers to your every query. Students can also join CBSE Class 12 Business Studies Free Online Classes offered by the top online portal, VidyaSetu Learnings. As per Business studies, new curriculum students should also make sure to go to business studies case studies class 12.
Update: CBSE Class 12 Commerce Results 2021 are out! Check Now
FAQs for Class 12 Business Studies Project 2021
Q1. What is the Marking Scheme of the Class 12 Business Studies Project?
A1. It consists of 20 Marks which includes ONE File + Viva Test.
Q2. Can I choose any Random Topic for preparing the Class 12 BST Project?
A2. No, students can't choose any topic of their choice. CBSE has prescribed the following 4 topics from which ONE topic is supposed to be selected.
Elements of Business Environment  (Book-I)
Principles of Management (Book-I)
Stock Exchange (Book-II)
Marketing Management (Book-II)
Q3. How many Pages of Report File should be a Class 12 Business Studies Project 2021?
A3. There should be a minimum of 25-30 Pages.
Q4. When to submit the Business Studies Report File?
A4. At the time of CBSE Class 12 Business Studies Practical Exams, students are supposed to carry their project file, from which the examiner will ask VIVA questions.
Hope, this CBSE Class 12 Business Studies Project Guide 2021 would have helped you in creating your project nicely. If you have any questions, just comment in the below section or let us know at info@vidyasetu.com.