CBSE 12th Results 2021: Also Check out CBSE Class 12 Results 2020
CBSE 12th result 2021 has been announced by CBSE as per their latest official notice. The dates for CBSE Class 12 results 2021 have been announced prior to conducting exams, the exams will take place from 4th May'21 to 11th June'21, while the Class 12 Practical will conduct in march'21. Due to the Current pandemic, CBSE has reduced the CBSE Class 12 syllabus for board exam'21 by 30% in every subject and topics in every chapter.  
The Central Board of Secondary Education (CBSE) will release the CBSE 12th grade Results 2021 in July on the official website. Students can check their CBSE 12th results in 2021 using their roll number, date of birth, admit card number along with the school center number. The CBSE result 2021 class 12comprise student name, roll number, date-of-birth, marks obtained in all subjects, grades, etc. All the students need to collect their mark sheets from their respective schools a few weeks after the declaration of the result as the result provided online will be provisional. CBSE also conducts the Improvement Exam for students who fail in one or two subjects. Students can also refer to class 12 Business studies notes.
Vidya Setu keeps close track of the CBSE Curriculum and all the information related to the CBSE exam. Any changes made by the board, the same will be done by the Vidya Setu. Students can also find the UP board class 12 date sheet and result dates for class 12 exam 2021. Students can also go through CBSE Class 12  syllabus like the CBSE class 12 chemistry syllabus for reference. Vidya Setu also provides the information regarding admit card class 12 to all the students so that they don't miss out on important details. Vidya Setu also provides quick ways to complete the syllabus and at the same time tells tips on how to score good marks.
Students can bookmark this page and visit this page regularly for all the updates regarding the CBSE 12th results. 
CBSE-12th-Result-2021- Latest-Updates
According to CBSE official notice, irrespective of the current pandemic the exams will take place offline in examination centers. Although all of the precautions and guidelines will be taken care of for student's protection. Below is the central board of education's latest notice stating all the important details regarding the CBSE board class 12th results about dates related to CBSE compartment exam 2021, Revaluation, or Re-checking.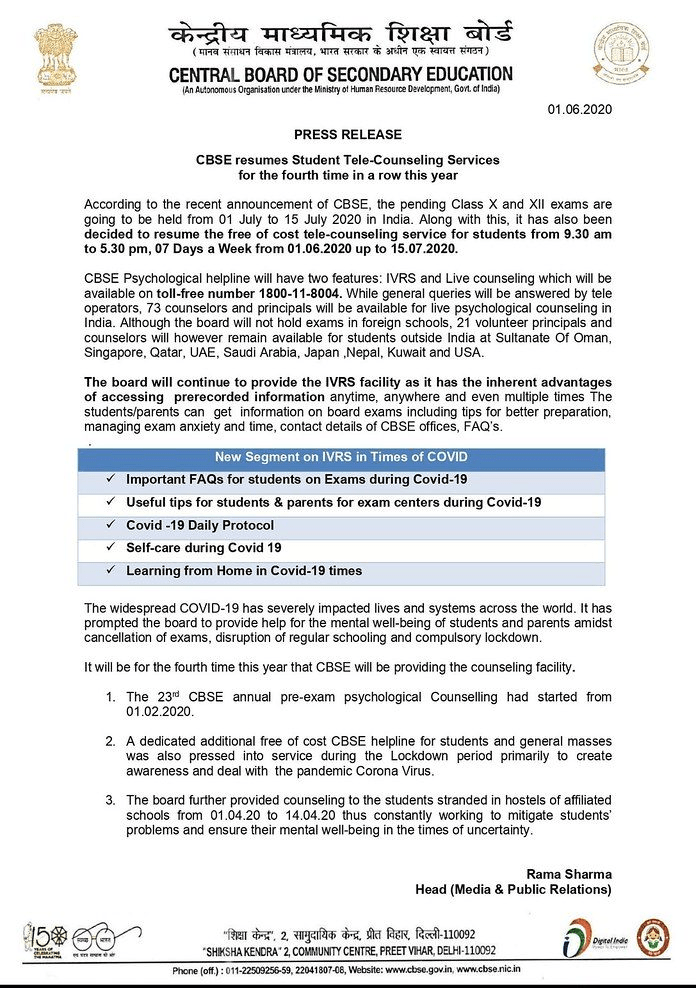 CBSE Class 12 Results 2021: Highlights
| | |
| --- | --- |
| Exam name | CBSE Board Senior Secondary Examinations |
| Short name | CBSE Class 12  |
| CBSE Board 12 Result date | By 15 July'21 |
| CBSE 12th Result website | cbseresults.nic.in, cbse.nic.in, cbse class 12th results cbse nic |
| Credentials required to check result | Roll number, school number, center number, and admit card ID |
| Result available on | The online portal, SMS, IVRS, Digilocker, Google, SMS organizer app |
| Total students | Around 12 lakh |
| Total schools | 21499 (as of May 1, 2019) |
CBSE 12th Results 2021: Important Dates
The CBSE class 12 Results 2020 is announced by the board and CBSE class 12 results 2021 will be declared after the exams are over. So given below are the tentative CBSE class 12 results date. 
| | |
| --- | --- |
| Examinations  | Dates (Tentative) |
| Release of CBSE Class 12th Date Sheet | February 2021 |
| Practical examinations  | March 2021 |
| Main examinations 2021 | 4 May- 11 June 2021 |
| CBSE 12th Result 2021 |  By 15 July 2021 |
| Application open for result verification | First week of Aug'21 |
| Applications open for result re-evaluation | First week of Aug'21 |
| Announcement of revaluation result | September'21 |
| Announcement of compartmental result | September'21 |
How to Check the CBSE Class 12 Results 2021
The 2020 CBSE class 12 results declared on the official website. The Class 12 results CBSE check on the official website as well as there are many other ways to check the results. Given below are the steps to check the results. 
RESULTS ON NET
As per previous years, this year also the CBSE is hosting its results on the net with the technical support of the National Informatics Centre (NIC), Department of Information Technology, Ministry of Communications and Informatio Technology, Govt. of India. The students can access their results through the following websites;
The schools will automatically get their entire School results on email ids already registered with the Board.
CBSE GOES DIGITAL AND MOBILE
Started in 2016, this year also CBSE will provide Class X and Class XII digital academic documents (Marksheets, Migration Certificate & Pass Certificate) through its own academic repository "Parinam Manjusha" which is integrated with DigiLocker at

https://digilocker.gov.in

.

The DigiLocker account credentials will be sent to students via SMS on their mobile number registered with CBSE.
Students can also view their results on the UMANG Mobile Platform which is available for android, IOS, and Windows-based Smartphones.
The CBSE Class X AND XII results will also be available via the Android mobile app "DigiResults".
RESULTS THROUGH IVRS (INTERACTIVE VOICE RESPONSE SYSTEM) 
The telephone numbers of NIC through which results can be accessed through IVRS are as follows: –
National Informatics Centre
| | |
| --- | --- |
| TELEPHONE NUMBER(S) | AREA COVERED |
| 24300699 | – for local subscribers in Delhi  |
| 011 – 24300699 | for subscribers in other parts of the country |
SMS
The result can be received by sending SMS for Class XII as given below cbse12 on mobile number 7738299899 
Results can also be accessed through the Google search engine www.google.co.in
Results can also be accessed through the SMS organizer app which can be downloaded from the play store https://aka.ms/sms
Note: Students can download the PDF for detailed instructions- Click Here
CBSE 12th Result 2021 2021: Details Mentioned
Name of examination
Board name
Respective class
Name of Student
Roll Number
Mother's Name
Father's Name
Date of Birth
Subject Name
Subject Code
Theory Marks
Practical Marks
Total Marks
Positional Grade
Final Results- Pass/ Not Pass
CBSE 12th Results 2021: Meaning of Abbreviations used in class 12 results 
| | |
| --- | --- |
| Abbreviations | Used Meaning |
| QUAL  | Eligible for Qualifying Certificate |
| EIOP | Eligible for Improvement of Performance |
| XXXX | Improvement |
| SJD | Sub Judice (under judgment) |
| N.E. | Not Eligible |
| NIOP | Not Eligible for Improvement of Performance |
| UFM | Unfair means |
CBSE 12th Results: How to Calculate Percentage
The marks in the five main subjects are to be added and divided by 5. For example, the marks of the five main subjects are mentioned below: 
Subject 1: 80
Subject 2: 85
Subject 3: 87
Subject 4: 92
Subject 5: 95
Step 1: The total marks: 80+85+87+92+95= 439
Step 2: Divide it by 5
439/5 = 87.8 (Percentage)
CBSE Class 12 Results: How to Convert CGPA into Percentage
CGPA stands for "Cumulative Grade Points Average" which is the average grade point earned in all the 5 main subjects i.e. excluding the additional subjects calculated by dividing with number 5.  Students can convert CGPA into the percentage by multiplying it by 9.5.
Students can convert the CGPA into a Percentage of the CBSE 12th Results 2020 by following this simple procedure:
Whatever is the student's total CGPA multiply it with 9.5
For example: if your CGPA is 8.4, then your percentage will be 8.4*9.5 = 79.8%
| | |
| --- | --- |
| Grades | Marks Range |
| A – 1 | 91 to 100 |
| A – 2 | 81 to 90 |
| B – 1 | 71 to 80 |
| B – 2 | 61 to 70 |
| C – 1 | 51 to 60 |
| C – 2 | 41 to 50 |
| D | 33 to 40 |
| E – 1 | 21 to 32 |
| E – 2 | 00 to 20 |
CBSE Class 12th Exams Passing Criteria 2021
Class 12 Students would only be considered to have cleared the CBSE class 12th exams if they fulfill the criteria given below:
Students should secure a grade higher than 'E' (that is, at least 33% marks) in all the five subjects of external exams in the main (or compartmental exams)
For practical work-related subjects, students should secure 33% marks in theory and 33% marks in practical. Apart from this, aspirants should have secured at least 33% marks in aggregate
Students would be given a pass certificate by the Board if they get a grade above 'E' in all subjects of internal assessment (unless he/she is exempted). You can also find the class 12 Datesheet for 2021 at VidyaSetu. Students are always advised by the teachers to go through the CBSE Class 12 Sample Papers for better preparation and good marks. Vidya Setu provides NCERT notes, solutions, and important questions for English as well as class 12 English syllabus and other subjects as well. 
CBSE result 2021 class 12: Compartment/Re-evaluation
If a student is not satisfied with the CBSE class 12 results, then they can raise a request for re-evaluation. The rechecking results will be made available online in August 2021. If a student fails in any subject, they can appear for the compartment exams for Class 12. The CBSE Compartment exams 2021 are expected to be held in September. The results for the same will be announced in the first week of October 2021.
CBSE Class 12 Results: Verification of Marks
Some of the students after the declaration of CBSE class 12 results are not satisfied with the marks. For students who are unsatisfied with the marks, the Central Board of Secondary Education has provided the facility of Verification of Marks.
Verification/Rechecking CBSE Class 12 Results: How to Apply
As the class 12 result declared, some of the students may not be satisfied with their results. They think marks are not up to their expectations. Such students can apply for Revaluation and Verification of their CBSE class 12 papers.
The verification link for the following is http://cbse.nic.in/newsite/rchk2019.html
Residing in India
Click on the below-mentioned link to go for "Online Application for Verification of Marks/ Grades / Photocopy of Answer book for Exam 2020".
After landing on this link, you need to fill in the following details –
Roll Number
School Number
Examination Center Number.
Thereafter submit the details which will proceed you towards the payment gateway where you need to make the requisite payment.
The students need to make a payment of Rs 500/- per subject for the verification of marks or grades.
On successful completion of the payment, your application is deemed to be submitted. Now you have to subscribe to this post to be updated with the class 12th board 2020 result.
Residing Out of India
If any student is not staying in India then only he/she can opt for the offline payment procedure for the verification of marks for their CBSE 12th result 2020.
To make the payment offline, one has to issue a Demand Draft in favor of "Secretary, CBSE" drawn at the place of the respective regional office of the board.
The student can download the form from the above-mentioned link. On completion of such an online application form, they have to send the Demand Draft to the concerned regional office within 7 days along with the confirmation page.
You have to mention the Roll No. and other details on the Demand Draft. As soon as you dispatch your Demand Draft to the regional office, submit your details like DD Number, Name of Bank, etc along with the scanned copy of your DD.
CBSE Class 12 Results 2020
CBSE class 12 results declared for 2020. Students should check the CBSE class 12 results on the official website.
Exam Name
Exam Date (2020)
Exam Result Date

CBSE 12th Board Exam

15th February to 23rd March

13th July 2020




(Declared)
CBSE 12th Results: Previous Year's Analysis
The overall pass percentage in 2020 was 88.78. Girls outshine boys in the CBSE class 12 examination. They recorded a 5.96% higher pass percentage than boys.
The pass percentage of transgender students was 66.67 percent. The Trivandrum region recorded the highest percentage with 97.67 % followed by Bengaluru with 97.05% and Chennai with 96.17%
1.57 lakh students scored over 90% and 38,686 scored over 95%.
In 2020, 87,651 students were placed in the compartment compared to 99,207 in 2019.
CBSE had decided not to announce the merit list for the Class 12 examination in 2020 owing to the coronavirus outbreak.
Class 12 results of 400 students could not be computed as per the decided assessment scheme. These were announced later.
Patna region recorded the lowest pass percentage at 74.57.
Note: For a more detailed analysis of the previous year's CBSE class 12 Results Click Here. 
CBSE 12th Result 2020-Topper list
The topper list of CBSE class 12 Result 2020 is given below. 
CBSE Class 12 Toppers 2020
| | | |
| --- | --- | --- |
| Rank | Topper | Marks secured |
| 1 | Divyanshi Jain | 600/600 |
| 1 | Tushar Singh | 500/500 |
CBSE Board Class 12 Toppers List 2019
RankTopper's NameMarks Secured
1

Hansika Shukla
Karishma Arora

499

2

Gaurangi Chawla
Aishwarya
Bhavya

498

3

3rd rank was shared by 18 students

497
CBSE Class 12 Examination Analysis(2019 and 2018)
Overall Pass Percentage Analysis
Overall Pass Percentage
Year
Registered
Appeared
Passed
Overall Pass Percentage

2019

1218393

1205484

1005427

83.40

2018

1119248

1106772

918763

83.01
Gender-wise Pass Percentage Analysis
Gender-wise Pass Percentage

Gender

2019

2018

Girls

88.70

88.31

Boys

79.40

78.99

Transgender

83.33

—
CBSE Class 12 Results: What After Declaration?
After the CBSE 12th result declared 2021, students should collect the original mark sheet from their schools respectively. They should apply for various professional and undergraduate courses in different universities and colleges.
Frequently Asked Questions
Q1. When will CBSE Class 12 results be declared?
Ans: The CBSE Class 12 Results 2020 has been declared and CBSE 12th result 2021 will be declared soon after the examinations are over. 
Q2. How to check the CBSE class 12 results?
Ans: There are various ways to check the CBSE 12th result. All the ways of checking the results are mentioned above on this page. 
Q3. When did the Central Board of Secondary Education declare the CBSE class 12 results 2020?
Ans: The Central Board of Secondary Education declared the CBSE class 12 results 2020 on 13th July 2020. 
Q4. Who is the topper of CBSE class 12 examination 2020?
Ans: Divyanshi Jain and Tushar Singh are the toppers of the CBSE class 12 examination 2020.