10 Best Preschools in Jaipur for Admission in 2024-25
Jaipur, also known as the Pink City of India, is famed not only for its rich cultural heritage and historic architecture but also for its dedication to providing quality education for its young residents. Within an ever-evolving landscape of education, parents can find a list of the best pre schools in Jaipur.
Schools in Jaipur lay an excellent foundation for the intellectual and emotional growth of children. As we enter the 2024-25 academic year, we cannot understate the importance of early education. Nurturing young minds early on while instilling a love for learning is essential in today's fast-paced world! Hence, if you are a parent searching for the best pre-primary school in Jaipur, then in this post, we present 10 top nursery schools in Jaipur.
These preschools in Jaipur have earned a stellar reputation due to their dedication and focus on providing top-quality education and supporting holistic development. So, let's check.
List Of Top 10 Pre-Schools in Jaipur
1. Kangaroo Kids International Preschool
It is one of the best preschools in Jaipur and the most loved one. Whether you are looking for play school or kindergarten, Kangaroo Kids will never disappoint you. The school understands that, being a parent, you want the best for your little one and assures you that you will never be disappointed.
The curriculum at Kangaroo Kids is the iCan Learning System, which helps to prepare kids to gain the right skills and good habits that will help them to thrive. They focus on a healthy and fun learning environment and catering to the needs of each student. The school has smart classrooms and CCTVs installed across campus for the security of your kid. Colours help to spark joy, and the campus is designed with a vibrant vibe that helps to enhance their creativity and enhance the learning experience.
School Details
| | |
| --- | --- |
| School Type | Co-ed |
| Contact Number | 9672001188 |
| Email ID | [email protected] |
| Website | https://www.kangarookids.in/preschool-in-jaipur/gopalbari |
| Address | 58, Ajmer Rd, Gopal bari, Jaipur |
---
2. KOOKABURRAA
One of the top nursery schools in Jaipur, Kookaburraa, is another preschool located in Civil Lines Jaipur that you can choose for your toddler as well. They take students for 01 years for the mother-toddler program. The curriculum at school is child-centred, which helps to support the development they need at this age. They use musical instruments, dance, storytelling, brain gym, role play, rhymes, science magic, fancy dress, shlokas, dining etiquettes, and many more activities to teach kids. The school campus has AC classrooms and has trained staff to handle 15-kids batches.
School Details
| | |
| --- | --- |
| School Type | Co-ed |
| Contact Number | 09680915000 |
| Email ID | [email protected] |
| Address | 65, Shivaji Nagar, Suraj Nagar, Civil Lines, Jaipur |
---
3. Godship Academy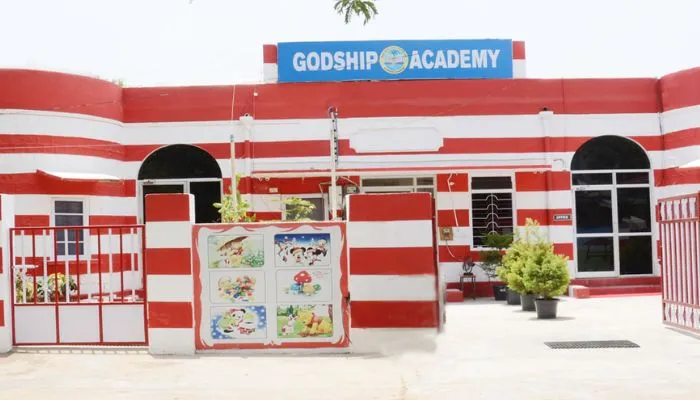 Godship Academy is one of the best pre-primary schools in Jaipur on the list of preschools. The school has the power to develop your toddler's mind and build the right skills and habits. Godship Academy isn't just preschool, it runs from nursery to class 08. They provide a creative, fun, and joyous learning environment in each class. The school has trained staff, a transport facility, a safe campus, and more where they focus on the overall development of kids.
School Details
| | |
| --- | --- |
| Principal Name | Dr. Sangita Bhowal |
| School Type | Co-ed |
| Contact Number | 0141-4055231, 2203388, 9829240807 |
| Email ID | [email protected] |
| Website | https://godshipacademy.com/ |
| Address | D 13-14 Meera Marg, Bani Park, Jaipur |
---
4. Creche Zone
Creche Zone is one of the good preschools in Jaipur located in Lal Kothi. The school was established in 2019 and has satisfied many parents with their services. The curriculum here is carefully designed for children of age 09 months plus. They use fun activities that help in the overall development of kids.
School Details
| | |
| --- | --- |
| School Type | Co-ed |
| Annual Fees | INR 2000 |
| Contact Number | 9152844676 |
| Address | A1, Satya Vihar, Indra Puri, Indrapuri, Lalkothi, Jaipur |
---
5. Bachpan A Play School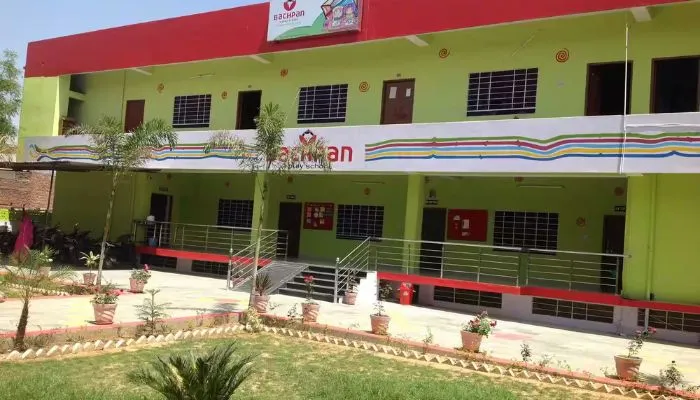 One of the best preschools in Jaipur is Bachpan, which offers everything you are looking for in a play school for your kid's Montessori education and development. It is among the top preschools in Jaipur and India. Bachpan uses a specially designed, researched curriculum with technical aids to teach students and fulfil their unique needs. The fruitful environment of the school, trained teachers, and child-oriented curriculum help in providing the best education and development to kids.
Bachpan has around 1200+ branches across India in around 400+ cities. They have multiple-layer teaching programs at playgroup, nursery, and kindergarten. The school uses the latest techs to teach kids, like smart classes, robotics, talking pens, virtual reality, and more to teach kids and make their preschool experience cherishing. The school focuses on nurturing the speaking, writing, social skills and character-building of a kid.
School Details
| | |
| --- | --- |
| School Type | Co-ed |
| Contact Number | 7665742742 |
| Email ID | [email protected] |
| Website | https://mansarovar.bachpanglobal.in/ |
| Address | 23/127, Tirupati Vihar, Opp. Rajat Path, Mangyawas Road, Mansarovar, Jaipur |
---
6. Shanti Juniors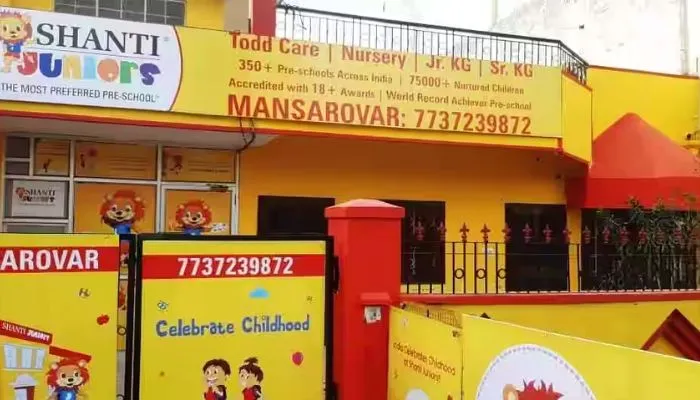 It is one of the best preschools in Jaipur for early development of children. Shanti Juniors understand every child has a unique need, and trained teachers here cater to the need of each child. There are 04 branches of Shanti Juniors in Jaipur- 02 in Murlipura, 01 in Jhotwara, and Kardhani. The school has around 350+ branches in 74 cities and has nurtured 10500+ students. They work on 07 stages of learning and serve the curiosity and creativity of children.
The school is known for the holistic development of kids through the Sanskar, Saakshar, and Saksham approach. They have been awarded with Leading Preschool Chain award, Education Leadership and Summiy award, Innovation in Education with STEAM approach, and more.
School Details
| | |
| --- | --- |
| School Type | Co-ed |
| Contact Number | 9828542778 |
| Email ID | [email protected] |
| Website | https://www.shantijuniors.com/home |
| Address | Plot No. 8, Shikhar Plaza, Shahid Major Alok Mathur Road, Kanta Chouraha, Jhotwara, Jaipur |
---
7. EuroKids Mahesh Nagar
90% of brain development happens till the age of 06 years. Euro Kids is one of the best pre-primary schools in Jaipur and India that understands this fact and has a curriculum according to it. It takes admission in playgroup for 02-03 years, nursery class for 03-04 years, Euro Junior for 04-05 years, and Euro Senior for 05-06 years. The curriculum for each stage is designed carefully to support the development of kids and build healthy habits and skills. It helps in enhancing creativity and imagination, shaping their mindset, language skills, speaking skills, writing skills, reading, and vocab, and preparing them for primary education at their own pace.
School Details
| | |
| --- | --- |
| School Type | Co-ed |
| Contact Number | 18002095656 |
| Website | https://www.eurokidsindia.com/ |
| Address | C 273, Mahesh Nagar, Jaipur |
---
8. Wonder Champs
Located in Shyam Nagar, it is one of the best preschools in Jaipur. The school focuses on the early age development of kids through its specially designed curriculum. They focus on building character, skills, and habits that will help students to adapt to primary education.
School Details
| | |
| --- | --- |
| School Type | Co-ed |
| Contact Number | 09414891177 |
| Address | 413, New Sanganer Rd, Katewa Nagar, Vivek Vihar, Shyam Nagar, Jaipur |
---
9. Chaman Baby Care
It is one of the best preschools in Jaipur, located in Shyam Nagar. The school's carefully crafted curriculum for toddlers and preschoolers helps in the early-age development of children. They use teaching methods designed for kids and use creativity to support it. Character building, basic skills, and right habits are just a few things your kid will learn at this school.
School Details
| | |
| --- | --- |
| School Type | Co-ed |
| Contact Number | 09829524241 |
| Address | K 144 Laxman Path Colony, opp. Danapani Restaurant, Kishan Nagar, Shyam Nagar, Jaipur |
---
10. Navarch Public School
It is a primary school in Jaipur, running from nursery to class V. Established 07 years ago as a preschool in Jaipur, they have turned into a primary school, nurturing students to prepare for the external world while focusing on character building and skill development.
School Details
| | |
| --- | --- |
| School Type | Co-ed |
| Contact Number | 09929973102 |
| Email ID | [email protected] |
| Website | https://navarch-public-school.business.site/?utm_source=gmb&utm_medium=referral |
| Address | 324, Jp Phatak Link Rd, Tonk Road, Barkat Nagar, Tonk Phatak, Jaipur |
Also Check: List of 10 Best Schools in Vidhyadhar Nagar Jaipur for 2024-25
---
Admission Process for Pre-Schools in Jaipur
To get admission to one of the best preschools in Jaipur, parents need to follow a set of processes to complete the admission process. The rules, deadlines, and processes can differ from school to school. Yet, below, we mention a few general steps and processes that you can expect to complete:
1. Admission Notification
Most preschools announce their admission schedules through their official websites, local newspapers, or notice boards. Parents should keep an eye out for these announcements and note the application submission dates.
2. Collecting Admission Forms
Parents or guardians need to obtain the admission forms from the preschool of their choice. These forms are usually available online and at the school's administrative office.
3. Filling the Admission Form
Carefully fill out the admission form, providing accurate information about your child, including their name, date of birth, address, parent/guardian details, and any other required information.
4. Documents Submission
Along with the completed admission form, you will need to submit a set of supporting documents. Commonly required documents include:
Birth certificate of the child (often issued by the municipal corporation)
Proof of residence (such as Aadhar card, passport, or utility bills)
Parent/guardian's identity and address proof
Passport-sized photographs of the child
Any other documents specified by the school
5. Interaction/Interview
Some preschools may schedule an interaction or interview with the child and parents as part of the admission process. This interaction is usually informal and aims to assess the child's readiness for preschool.
6. Admission Criteria
The best preschools in Jaipur have certain admission criteria, such as age eligibility. Hence, ensure that your child meets these criteria.
7. Selection and Merit List
After reviewing the applications and conducting interviews, if applicable, preschools will prepare a merit list of selected candidates. This list is usually posted on the school's notice board or website.
8. Payment of Fees
Once your child's name appears on the merit list, you'll be required to pay the admission fees and any other charges as per the school's fee structure. Be sure to inquire about the fee payment schedule.
9. Submission of Additional Forms
Some schools may require you to fill out additional forms, such as medical history or transport forms, at the time of admission.
10. Orientation Session
Preschools often conduct orientation sessions for parents to familiarize them with the school's policies, curriculum, and expectations. Attendance at these sessions is advisable.
11. Commencement of Classes
Once the admission process is complete, your child will begin attending preschool as per the school's academic calendar. It's crucial to start the admission process well in advance, as the best preschools in Jaipur can be competitive, and admission slots may fill up quickly.
Additionally, make sure to read and follow the specific instructions provided by the school you are interested in, as they may have unique requirements and deadlines.
Moreover, maintain open communication with the school's admission office and staff to ensure a smooth admission process for your child.
---
Documents Required for Admission
During the admission of your child in any of the best preschools in Jaipur, parents need to submit a few essential documents. So these documents are as following:
Passport Size Photos
ID of student
Residential Proof
ID of parents
Birth Certificate
Marksheets and certificates
Parent's Occupation proof
Marksheet and certificate of class 10 for class 11 admission
Transfer certificate from the previous school
Medical certificate (for special needs students)
Income certificate (in reservation cases)
Caste certificate (in reservation cases)
---
How To Select The Best Pre-Schools In Jaipur For Your Child?
Choosing the right preschool for your child is a crucial decision that can significantly impact their early education and overall development. Here are some factors to consider when selecting the best preschools in Jaipur:
1. Faculty/Teachers
Qualifications and Experience: Look for preschools with well-qualified and experienced teachers. Teachers should have training in early childhood education, as they play a vital role in your child's development.
Teaching Methodology: Also, check about the teaching methodology used by the school. An ideal preschool should focus on a child-centric approach, fostering creativity, curiosity, and social skills.
2. Infrastructure
Safety and Hygiene: Ensure that the preschool maintains a clean and safe environment for children. Look for safety measures such as secure entrances, fire safety equipment, and childproofing.
Play Areas: The best preschools in Jaipur should have age-appropriate outdoor and indoor play areas that encourage physical activity and exploration.
Classroom Setup: Check the layout of classrooms. They should be colourful, well-organized, and equipped with age-appropriate learning materials.
3. Board of Medium
Curriculum: Understand the curriculum followed by the preschool. Many preschools in Jaipur follow international or national curricula like Montessori, CBSE, or ICSE. Choose one that aligns with your educational preferences.
Language of Instruction: Consider the medium of instruction. Some preschools may offer education in English, while others may use Hindi or a bilingual approach. Choose the language that best suits your child's needs.
4. Past Results
Parent Feedback: Talk to parents whose children have attended preschool in the past. Their experiences and feedback can provide valuable insights into the quality of education and the school's environment.
Success Stories: Inquire about any notable achievements or success stories of the preschool's alumni. This can give you an idea of the school's track record.
5. Fee Structure
Affordability: Evaluate the fee structure and ensure it aligns with your budget. Keep in mind that while cost is a factor, it should not be the sole determinant of your choice.
Hidden Costs: Inquire about any hidden or additional charges, such as admission fees, transportation fees, or material costs. Be clear about what is included in the fee.
---
Frequently Asked Questions
Q1. Which is the No. 1 Preschool in Jaipur?
KOOKABURRAA is the No.1 preschool in Jaipur.
Q2. How can I enroll my child in a preschool in Jaipur?
To enroll your child in a preschool in Jaipur, you need to contact your preferred schools and complete the admission procedure as outlined by them.
Q3. What are the Preschools options available in Jaipur?
Kangaroo Kids International Preschool, KOOKABURRAA, Godship Academy, EuroKids, etc, are a few best preschools in Jaipur options.
Q4. What should I look for when choosing a preschool for my child in Jaipur?
When choosing a preschool for your child, consider the teaching method, the teacher's experience, how they will handle your child, safety measures, and the infrastructure quality.
Q5. Do preschools in Jaipur follow a specific curriculum?
Yes, different preschools in Jaipur follow different curriculum.
Q6. What are the age criteria for nursery admissions in Preschools in Jaipur?
For nursery admission, the child should be about 3.5 years old.
Q7. What extracurricular activities are offered by Preschools in Jaipur?
Art and Crafts, Music and Dance, Storytelling and Drama, Outdoor Play, Yoga and Exercise, Celebrations and Cultural Activities, etc, are a few activities offered by the best preschools in Jaipur.
Q8. Do preschools in Jaipur provide transportation services?
Yes, a few preschools in Jaipur provide transportation services.